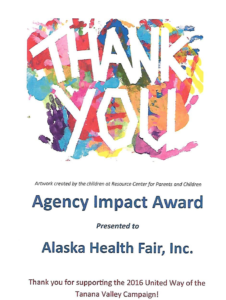 The annual United Way of the Tanana Valley Celebration Breakfast was held on April 7th at Ravn's Landing in Fairbanks. During the event, various announcements are made and awards presented to major campaign donors and others who provided strong support for the current campaign.
Alaska Health Fair received the "Agency Impact Award" for the 2016 United Way Campaign. The award is given annually to "1 of 21" local United Way agencies, and understandably we are proud to be the recipient agency this year. The non-profit is chosen through its proven support and strengthening of the Tanana Valley Region, the surrounding communities and other United Way member agencies. The award came as a pleasant surprise and is greatly appreciated!
As United Way staff said, the award was also meant to recognize AHF and partner agencies putting together the "First Ever" United Way of the Tanana Valley and Local Non-Profits Health Fair – an event specifically for staff members of numerous nonprofit organizations serving the most vulnerable in the community.
Alaska Health Fair is a member agency of United Way of Tanana Valley and United Way of Anchorage.
We thank all of you for helping AHF to achieve this milestone and special recognition! We could not have achieved it without your support!
On the picture above, left to right: Lisa McDaniel, Human Resources Coordinator, ThrivAlaska and Sharon Phillips, Program Director of Tanana Valley and Northern Regions, Alaska Health Fair. Photo credit: JoLee Giuchici, PR/ Resource Development Director, United Way of Tanana Valley.