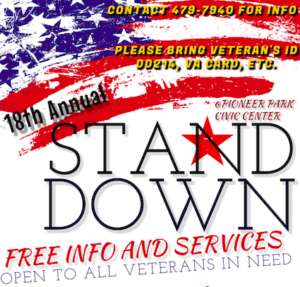 Good afternoon!
RE: Special Event for Veterans in Fairbanks, Alaska
Alaska Health Fair, Inc. is working in close partnership with the Fairbanks Veterans Stand Down. Stand Down is a two-day event held on August 12-13 at Pioneer Park. Friday is for clothing distribution only and on Saturday there are multiple services offered to assist veterans, including the blood draws and traditional support stations by the Alaska Health Fair. Saturday hours are 7:30am – 3pm. We are looking for volunteers and sponsors for the AHF portion of the event and free blood tests for Alaska vets.
With Flag Day being held earlier this week and Independence Day in just 2 weeks; we wanted to ask for your support for those who have given their all for our country. Please consider sponsoring one, five, ten or even more veterans for a free blood screenings at the Veterans Stand Down. Or, consider volunteering at the event if you can. Do it in remembrance, in recognition, to thank someone special or to honor veterans in general for their dedication, sacrifice and service.
We hope generous individuals and businesses will sponsor one or more of the approximately 700 veterans who attend this annual event by donating $45 to cover the cost of a comprehensive 27 panel Chemistry/Hematology blood test.
We would like to thank the following recent sponsors for their support – Thank You!
Papa John's Pizza, sponsoring 10 veterans
The Phillips Family, sponsoring 3 veterans
Alaska Health Fair team, sponsoring 10 veterans
Please call us to make a donation over the phone (907-374-6853 in Fairbanks; 907-278-0234 in Anchorage). Visa, mastercard, cash, and checks are accepted. All proceeds will cover the cost of blood tests for veterans.
Click here to download the official event flyer.
Click this link to register to volunteer at the AHF portion of the event. We look forward to your participation!
Thank you for your consideration and for your support of Alaska vets.
Sincerely,
AHF Team