Our Mission: Promote statewide health education and preventative screenings.
Our Vision: Optimal health for all Alaskans.
Our Core Purpose: Promote health and wellness and save lives.
Alaska Health Fair has been serving Alaska for generations, since 1980. We are the providers of the original Health Fair, a unique event model where people can access free health education, screenings, and affordable blood tests. Today, Alaska Health Fair has two office locations – in Anchorage and in Fairbanks – and conducts close to 100 community events annually. Around 35,000 people attend our events in Anchorage, Juneau, Fairbanks and many other communities each year.
As an organization whose purpose is to promote health and wellness and save lives and whose vision is optimal health for all Alaskans, we feel it is necessary to be explicitly clear about the fact that as an organization, we stand behind and believe in people who are often overlooked, treated unfairly, and experience disparate outcomes in healthcare. We stand for equality for every man, woman, and child to be seen, heard, and treated justly and fairly. In fact, race and racism are proven risk factors when it comes to health and wellness. We serve a unique population, of which 65.4% are white and the remaining 34% are made up of a wide variety of races, most of whom collectively experience documented and often systemic racism on a daily basis. In fact, our population is extremely diverse.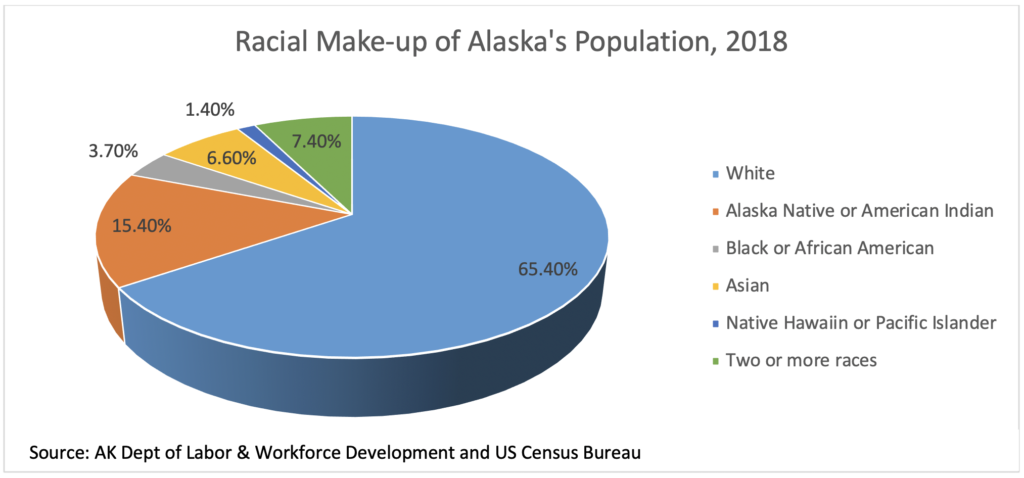 This is a health issue. Race affects an individual's likelihood to be able to access and/or afford health insurance and health care, as well as the quality of care that person receives. These are studied, documented, and proven problems in our health care system.
Alaska Health Fair has been offering our services for the past 40 years to the diverse communities of Alaska. We are proud to say that we have and continue to focus on how best to serve members of our communities who are more likely to be uninsured, economically disadvantaged, and who have difficulty getting services through the mainstream healthcare system. We provide affordable and accessible health screening, blood tests, and education to all Alaskans.
What we have been and will continue to do:
We have been making a concerted effort to increase the diversity of our board to be more representative of the people we serve – we have focused on race, age, and gender, continually asked the question as to whether our board makeup reflects our community demographics. This has resulted in a board that, despite a small size, is actually quite diverse. That being said, we are continuing to look for board members who represent Alaska's diverse population and who bring additional skills and viewpoints to the table.
We work with a variety of organizations to host community health fairs that are accessible and appealing to people of color, as well as people who are economically disadvantaged, uninsured, and elderly. Some examples include:

Southeast Alaska Regional Health Consortium (SEARHC)
Tyonek Tribal Council
Filipino Community of Anchorage Alaska
Alaska Federation of Filipino Americans
Alpha Kappa Alpha (Anchorage & North Pole event support)
Fairbanks Veterans Stand Down (over 80 local agencies and military branches)
Brother Francis Shelter and UAA PA Students (Anchorage)
Project Homeless Connect (City of Fairbanks and over 40 local agencies)
Alaska Community Foundation (Alaska Kidney Foundation) Free Blood Test Coupons for Alaskans experiencing financial hardship
Norton Sound Health Corporation Fair – Nome
City of Eagle and Eagle Community School Fair
Railbelt Mental Health-Addictions Fair – Nenana
Fairbanks Reentry Coalition Fair (and 20 local agencies)
Senior-Caregiver Resource Fair (Fairbanks Resource Agency and over 30 local agencies)
Fairbanks Community Food Bank, Literacy Council of Alaska and Health Education Learning Project
United Way of the Tanana Valley and Local Non-Profits Health Fair (with 20 member agencies staff attending)
Fairbanks Families Partnership Kids Fair (FNSB H&SS Early Childhood Development Commission and 40 local agencies)
University of Fairbanks Community & Technical College (Medical Assistant, Nursing, Phlebotomy & Paramedicine Programs)
Eielson A.F.B. Clinic, Bassett Army Community Hospital, Fairbanks Memorial Hospital and Fairbanks Regional Public Health Center
What we will strive to do better:
Educate our paid and volunteer staff about the issues of racism in healthcare and how they can be part of the solution in their everyday dealings with our clients of Alaska Health Fair.
Explore opportunities to partner with an organization who will provide an exhibit discussing and educating people about racism as a health risk and what to do about it.
Look at the racial makeup of our staff, both paid and volunteer, and make a concerted effort to diversify our recruitment streams to work toward making it more representative of the communities we serve.
Board of Directors and Executive Director