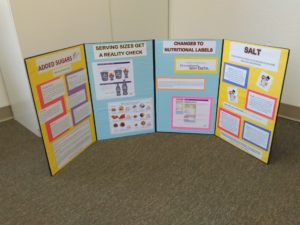 Eating healthier can be a challenge, and we constantly hear about all the "bad" things that are added to our foods to prolong its shelf life and for other reasons. We wanted to make available to you a basic yet informative exhibit/board covering sugars, salts, portion sizes, new nutrition labels and more so that we all can make more informed choices when it comes to our nutrition.
Joan Ryan, Alaska Health Fair Assistant Program Director, put together this exhibit using a variety of sources and most current information available. 
If you plan to attend any of our Health Fairs this fall, you will likely see this exhibit and be able to ask questions (and get answers) from one of our educators. If you represent a local organization, you can borrow this exhibit for your event free of charge from our lending library – give us a call to reserve it.