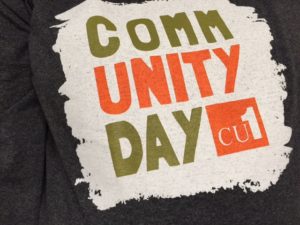 This year's Credit Union 1 Comm-Unity Day held on October 10, 2016 was a special day for Alaska Health Fair – Fairbanks and for other local non-profits at the Carol Brice Family Center.  Columbus Day happens to be a banking holiday and Credit Union 1 uses it to provide much needed service and support to community programs.  When Alaska Health Fair was contacted and offered 22 volunteers (!) for a 5 hour period of volunteer work (on the same day); the Tanana Valley/Northern Region Program Director, Sharon Phillips was extremely happy.  She reached out to agencies located in the same building, at the Carol Brice Family Center (ThrivAlaska – Head Start, Thread Child Care Programs and Disability Law); to see what projects they might need help with.  Credit Union volunteers showed up at 8:00am on their day off and read to children, cleaning toys, working on inside and outside projects, plus many other tasks in support of the above programs.
Credit Union 1 staff were immensely supportive of Alaska Health Fair's local office providing services involving the tallying of evaluation statistics for several health fairs; prepping/packing phlebotomy supplies; bundling phlebotomy jackets (including certain sizes); prepping cardboard racks for each health fair; all registration boxes with supplies; sorting and bundling test tube and hazmat bags; prepping participant folders with handouts and attaching informational sheets which promote our new blood tests; purging damaged tablecloths (taking these to Head Start classrooms for art projects) and folding/sorting tablecloths in good condition; pulling all old data/tape off of AHF banners; putting together new Phlebotomy Manuals; processing/enveloping Thank You cards; plus several other event and office support projects.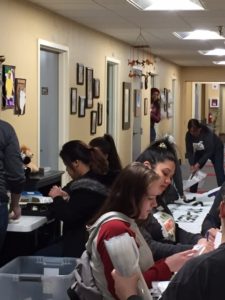 On behalf of Alaska Health Fair and our neighbor agencies located at the Carol Brice Family Center, we are extremely grateful to the hard-working crews that came out and helped our non-profits in so many ways.  They are deeply appreciated for their dedication and strong work ethic.  We're proud to say that Credit Union 1 has hosted an Alaska Health Fair Community event for many, many years.  Upcoming dates are CU1 – Anchorage on Tuesday, October 18, 2016 (7:30am-10:00am) and CU1 – Fairbanks on Wednesday, October 26, 2016 (7:30am-10:30am).  Come out, enjoy the health fairs, and check out CU 1 offerings. Who knows, anything is possible, and you may discover your new favorite place to bank.