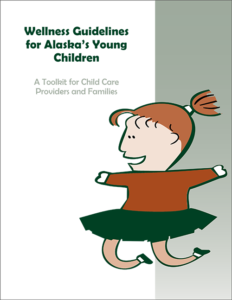 About 1 out of 3 Alaska children is overweight or obese. It's important to prevent unhealthy weight gain at a young age. Along with families, child care and early education providers can play a big role in helping Alaska's youngest children grow up at a healthy weight.
"It's important for child care staff, families and other caregivers to be on the same page for young children's health," said Diane Peck, a registered dietitian and Early Care and Education Obesity Prevention Specialist for Alaska. "The Wellness Guidelines provide tips for parents to use at home, as well as ideas for child care newsletters and events that can help inform and engage parents. Families can join child care providers in planning programs and activities to prevent childhood obesity and encourage healthy living."
The Wellness Guidelines provide quick and easy information on a variety of topics for obesity prevention in child care facilities. Each topic contains practical tips and ideas for healthy activities in child care facilities or day care homes. These ideas include ways to keep kids active when it's too cold or wet outside, the healthiest beverages to serve to young children, and ways to support breastfeeding mothers. The Wellness Guidelines contain resources on healthy activities, policies, kids' books, and more.
Alaska's new publication includes a section on traditional foods. Serving traditional foods recognizes the cultural and ethnic preferences of children and broadens all children's experiences with food. Many foods that grow wild in Alaska are part of a traditional Alaska Native diet. Foods such as wild game meats, fish, seafood, plants, and berries are very nutritious and can be served in child care settings when proper food safety guidelines are followed. Use of these foods can address the cultural and ethnic preferences of many children, encourage community and family engagement, and reduce dependency on store-bought foods.
The
Wellness Guidelines for Alaska's Young Children
were developed by the Alaska Obesity Prevention and Control Program with input from the Alaska Alliance for Healthy Kids – Early Care and Education Work Group. This work group brings together people interested in addressing childhood obesity in the child care and early education settings. The group consists of Head Start and individual child care providers, as well as organizations that provide licensing, training, and support for child care centers, such as
thread
, the
Child and Adult Care Food Program
, the
Alaska Child Care Program Office
, and the
Women, Infants and Children Program
(WIC). The group hosts a listserv to provide up-to-date, Alaska-specific information on childhood obesity prevention issues for child care providers. You can
click here
to join the listserv.
You can learn more about healthy eating and active play in child care facilities by
clicking here
. If you have a question about childhood obesity prevention, contact Peck at
diane.peck@alaska.gov
or (907) 269-8447.
This article provided by AHF Partners at Obesity Prevention and Control Program, State of Alaska