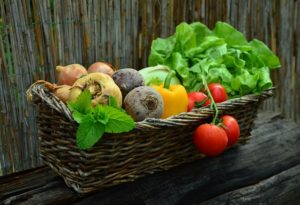 Maybe you rent an apartment and don't have a yard. Perhaps you have a yard, but it's not big enough for a garden that feeds your family. Or, maybe you just like to plant vegetables among family, friends and neighbors.
All of these are great reasons to check out a local community garden program in your city. A number of Alaska communities have low-cost garden plots that you can rent to supply your family with lettuce, carrots and other vegetables throughout the summer.
It's not too early to start planning for next summer. Community garden programs can be very popular and there may be waiting lists due to a limited number of plots.
Here are links to some community gardens, but call your city to ask about gardens in your area:
Anchorage
Craig
Fairbanks
Juneau
Wasilla
Wrangell
These websites will help you find out when to register for a plot, what supplies are available, the rules for renting garden space and when next summer's applications are due.
There are lots of benefits to renting garden plots. You know what goes into your greens, and you can't get much more local than your own garden plot. You have a place to be physically active — preparing the land, planting and harvesting — and reap the healthy rewards at your dinner table. You can get your kids involved, showing them how to grow their own food.
What can you grow? On its website, Juneau's garden association calls potatoes "practically foolproof" and rhubarb "almost effortless." The association recommends planting a short row of lettuce every couple of weeks, and to consider kale, a leafy green that "loves our weather."
You can also save money by renting a garden plot. The cost for one plot in Anchorage is $25. In Juneau, plots also cost $35. The plot cost in Fairbanks is $80 (with a refundable clean-up deposit. Some gardens come with extras, including water for irrigation, picnic tables for family gatherings, portable toilets and a nearby area for kids to get out and play. Families can use their plots to grow their own vegetables without having to spend money purchasing produce that often has to be shipped here from outside states and countries.
Each garden has its rules. You must get your plot ready and planted by a certain time each year, and you need to tend your garden a certain numbers of hours each week. You need to be a good neighbor and keep your produce inside your plot boundaries. And you need to clean up after yourself at the end of the harvest.
Community gardens are in full swing this summer, but be sure to check out your community's website to plan for next summer so you can grow your family's food on a rented garden plot.
Story submitted by the State of Alaska Play Every Day campaign. Big thanks to our partners at DHSS.