Alaska Health Fair is pleased to welcome a new board member – Amanda Roberts of Sitka, Alaska.
Ms. Roberts works as a Health Educator II for the SouthEast Alaska Regional Health Consortium (SEARHC) Health Promotion Department. SEARHC is a long-time partner of AHF in delivering health fairs in Southeast Alaska communities.  Here's what Amanda had to say when we asked her to introduce herself: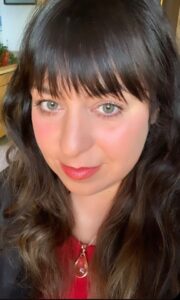 "Born, raised, and currently residing in Sitka, Alaska. I've worked for SEARHC for over 17 years, almost 12 of which have been serving in Public Health under the State of Alaska Tobacco Prevention and Control grant. My area of expertise and passion is tobacco prevention, policy, and education. I've worked with and built partnerships in multiple Southeast communities including, Skagway, Haines, Kake, and Prince of Wales Island, to implement and support policy change, health fair education, and health promotion site visit activities.
I also assist with facilitating regional fitness challenges, media campaigns, and healthy lifestyle change programs.I have formerly served as Co-Chair for the Alaska's Tobacco Control Alliance Alaska Smoke-Free Housing Partnership and have recently joined the Sitka Moose Lodge Board as a Trustee. I am so excited to join the Alaska Health Fair Board and feel like this will be a great experience for me!"
AHF is honored to have such an experienced and accomplished individual join the Board and looks forward to working with Amanda.
Alaska Health Fair is a community nonprofit delivering health education events and affordable screenings statewide since 1980. It is governed by a volunteer board that strives to represent Alaskans from all regions of the state.
Other members of the board include – Cara Fairbanks, SHRM-SCP, SPHR, Training and Development Manager with Carlile; Corlis Taylor, retired Fairbanks Memorial Hospital Education Director; Bernie Jarriel, Jr., MHS, CHES, Clinical Quality Auditor with Mat-Su Health Services; Gerhard Vierthaler, Owner of Value Strategy Group; and, Carol Lynn Senette, MS, MBA, RN, CNE, retired Associate Professor of Nursing, UAA School of Nursing.