Alaska Health Fair was founded on the dream of a physician who believed that the road to longevity rests in healthy lifestyles, which develop, in part, through education and screenings.
Alaska Health Fair has been serving Alaskans for generations, since 1980. We are the providers of the Original Health Fair, a unique event model where Alaskans can access free health education, screenings, and tests.  Around 35,000 people attend our events in Anchorage, Juneau, Fairbanks and 50 other communities each year.
Latest News:
Our recent online survey of customers received responses from all corners of our great state; from Juneau to Bethel, Anchorage to Fairbanks, Wasilla to Nome and many more places. Thank you to all who responded. Survey results are as follows.
You overwhelmingly responded that you would highly recommend AHF Health Fairs to your friends and colleagues. We asked you, on a scale of 0 to 10, how likely it was that you would recommend AHF Health Fairs to your friends. Over 80% of you gave us the highest mark possible — 10 out of 10. We are humbled and honored. It's good to hear that our volunteers, health educators, and staff are doing such an awesome job providing Health Fairs, and that we have your trust.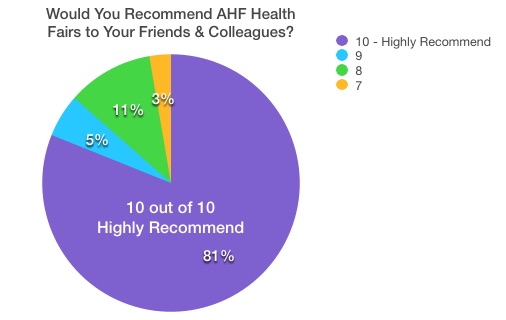 In response to the question about your least favorite aspect of AHF Health Fairs, some of you responded "none" and said that you like everything about our events. Others said your weren't particularly fond of the waiting lines that sometimes occur; fasting for blood draws, which is not always easy; and that we don't hold Health Fairs often enough in your area or community. We appreciate your feedback and care about your experience deeply. We are taking steps to take your Health Fair experience to the new level.
In response to the final question of our survey, where we asked you about your most favorite aspect of AHF Health Fairs, you said that most of all, you value fast, inexpensive, and private blood tests; courteous volunteers and exhibitors; the variety of health education topics that we cover; free screenings; and friendly people. Many of you said you love "everything" we do. Again, we are humbled by your responses. AHF volunteers and staff love doing Health Fairs. Health Fairs are our life, and we will continue focusing on providing you with an unmatched Health Fair experience and listening to your feedback.
Thank you!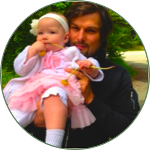 Andrei Chakine, Executive Director
Why Do Thousands of Alaskans Love AHF Health Fairs?
Fast and Affordable Blood Tests:
You won't believe our prices. Our most popular and comprehensive 27-panel blood test is just $45. It covers a total of 27 indicators including diabetes, liver health, kidney health, coronary heart disease and many more. Accomplish your bi-annual screening with us, save hundreds of dollars, and you can take the results directly to your doctor. We do our blood tests with PAML, one of the top ranking laboratories in the U.S.
Privacy and Security of Your Blood Test Results:
Alaska Health Fair does not use electronic health record systems and is not a member of any Health Information Exchange programs. We do not share your information with insurance companies, health management organizations, or anyone else. When you do your tests with us, results go directly to you by regular mail. You can keep them private or share them with your doctor, at your discretion.
Preventative Screenings:
Accomplish a variety of free screenings including blood pressure, height and weight, vision, oral cancer, and special screenings like skin cancer, podiatry, chiropractor, etc.
Health Education:
Get the information that you need to stay healthy and happy. Ask our friendly medical volunteers and partner agencies questions and get answers about your health. Learn accurate and up-to-date information about diabetes, heart health, kidney health, liver health, healthy lifestyle, smoking cessation, healthy eating and many more topics. Connect with free health and wellness resources available in your community!
Make us your family tradition. Thousands of Alaskans that attend AHF Health Fairs cannot be wrong… We guarantee, you will love it!